Customer Mail In Service For Any Of Your Bolts!
For the first time ever we are able to offer a customer mail in service for any of your bolts!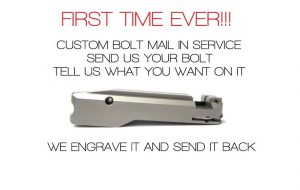 We just purchased another machine that will be solely dedicated to engraving mail in bolts, and boy, it's freaking fast!
Check out our ebay listing and please be sure to read through the descriptions. It is there where you will be able to find out all the info.
Can't wait to start getting all ya'll bolts in and start engraving!